I wasn't going to recap Boys Planet (and technically, I'm still not doing it), but I'm watching the series and thought others might appreciate a spot to discuss it. So, each week I plan on dumping a few of my random thoughts about the show. Again, this will not be a full, detailed recap. But, if you have something you want to mention make sure to include it in the comments!
EDIT: Damn, this is practically turning into a recap, isn't it?? 
---
Hui and other Debuted Contestants
I'm not a fan of Hui's participation in this program, both for himself and for the other contestants. It just doesn't seem fair to compare pre-debut trainees with an idol who has nearly a decade of experience on the stage. It's apples and oranges and doesn't make anyone look good. But, such is the nature of these programs, I guess. At any rate, I was surprised they focused so much on Hui's performance (it was good, but an awful song choice) and barely mentioned most of the other already-debuted contestants. I know he's the most high-profile person, but does Cube Entertainment have some connection with the show?
*Also, was it just me or did they amplify Hui's voice a ton during the editing? It was such a drastic shift I had to adjust the volume.
**Also also… is Ciipher no more? I know Rain basically washed his hands of them, but for some reason I thought they'd still be active as a group. Keita was good and I'm rooting for him. Nine years training for this? Jeesh.
---
Takuto: Part Two

I don't care if this little sprite got no stars (at least to start with). He seems like the kind of character who would be in a quirky, barely-known idol group that I'd be a big fan of. He's got a great attitude and he (along with the "My House" zero-star recipients) are already some of my standouts of the show. The entertainment factor goes a long way.
Also,  Takuto is apparently rooming with Bias List favorite Seok Matthew during training, which is the weekly sitcom we all need to see.

---
Sunmi!
That's all. It's always nice to see her.

---
Does Anyone Actually Care about the "K" vs. "G" Rivalry?
I certainly don't, but the producers at MNET are sure trying to make it a driving force behind this series.
---
Another Standout
Overall, the performances this week were pretty forgettable, but I thought Nunu Nana from Red Start Entertainment was decent. Side note: I've never heard of Red Start Entertainment, but the name sounds a bit sinister.

---
Signal Song Evaluation
It was a very smart idea to film this in front of judges rather than pre-recorded videos. However, I'm always so surprised at how awful the majority of the trainees sound during this stage. I'm sure editing plays a part, but still…
---
MNET's "BL" Pandering
This feels like a new trend for a Korean survival series and it's about as patronizing as you'd expect from MNET.
---
The Continued Woollim Erasure
Seriously, what does Woollim Entertainment have to do to catch a break? Apparently it doesn't matter if they consistently release the best music in K-pop. Both audition episodes completely ignored their trainees. So… in the name of shameless promotion, here's an unaired audition. It's nothing amazing, but neither were any of the other performances.
(Plus, Golcha could've used the promo!)

---
Quote of the Week
"My goal is to get one star," delivered with the utmost conviction and sincerity.
(Narrator: He did not receive one star)
---
Ugly Trainee Outfits
My god, their jerseys this year are awful. They're needlessly complicated and the clashing colors are a real eyesore.
---
And finally…
I couldn't resist turning this scene into a gif because the guy on the left is me watching K-pop's current crop of idol comebacks: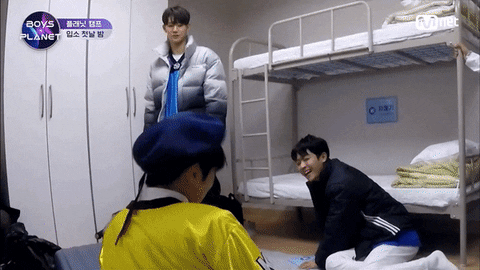 ---